Thank you very much for your visit to the Pen-Drawing Studio show and to the website as well!!
Kyoko Nakamoto "Drawing" Exhibition
2014/1/25(sat)-2/2(sun) Open 12-6pm
NY trip inspired drawings.Pen&Other works
★EXPOSURE -Ceres Gallery Group Show-

The Ceres Gallery Four-days ARTSHOW was fantastic!Thank you so much for so many of your visits and purchasing the drawings!!I had a great time with wonderful people at the Wine Reception.The German TV crew were shooting during the reception.
I thank to ALL who have been encouraging me for a long time.Blessings to all of you!!

Place:Ceres Gallery(547 West 27th St.Suite 201,New York,NY Tel:212-947-6100)
www.ceresgallery.org
Dates:November 26,27,29,30, 2013 (Closed on 28th due to the Thanksgiving Holiday)
Hours:Open 12:00pm-6:00pm *Wine Reception on 30th(3:00pm-5:00pm)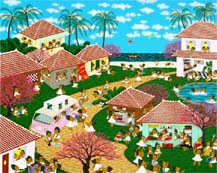 THE PARADISE SERIES BEING A PUBLIC COLLECTION

Original painting"A Springtime"was decided to be a public collection in the prefectural hall"Jichi-Kaikan"to be displayed in their entrance hall in Fall,2012
http://www.okinawa-jichikaikan.com/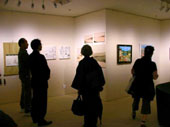 ★KYOKO NAKAMOTO EXHIBITION 2011

Kyoko's 12th annual solo show in Naha was huge success!Thank you so much for all the visitors!!

Dates:December 11th-17th,2011 10:30am-8:00pm
(5:00pm closing on the final day)
Place:Ryubo Art Salon(department store Pallet Kumoji Bldg,7th floor)
Phone:098-867-1291 or 867-1171) ryubo.jp/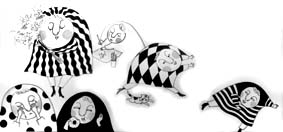 ★Kyoko create an illustration for the poetry-magazine.


Interviewed on Okinawa Living Magazine New Year Issue 2012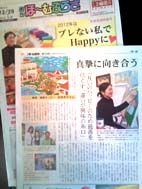 Interviewed on Weekly Paper"Home Plaza"Dec.29 issue

Kyoko Nakamoto on RBC-TV program "The News"(12/9 on air)
Inteviewed about
RYUBO Exhibition 10th anniversary

★"NAGO RYOIKUEN"locates on Nago-city,the center for severe mentally and physically handicapped children,marks 30th anniversary and celebrate their new facility grand opening on May 31,2012.
I am very much honored as an artist that one of the"Paradise series"being parmanently decorated as a large tile-made wall picture in the entrance lobby of this significant facility.
Hope that all the people who look at the wall,will enjoy the details of the picture and feel happy.
■10 of"Paradise Series"large canvas prints parmanently hung as accent at the newly grand opened Child Development"Ashibina Center"in Foster!

★KYOKO NAKAMOTO EXHIBITION 2011
  Kyoko's annual solo show was over with great success!!Thank you very much for many visits!!
Dates:December 6th-12th,2011
Place:Ryubo Art Salon(department store Pallet Kumoji Bldg,7th floor)
<Photos>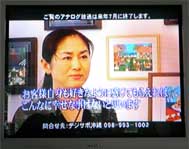 ♪Kyoko was appeared on TV!
September 4th, 2010 pm11:24 at the cannel 10(RBC)

★Kyoko on a Radio-show,August 6th.(FM-NAHA)

★KYOKO NAKAMOTO EXHIBITION Over!
Thank you so much for many visitors!I had a great week with all of you!!
Place:Gallery Premier
(811-3,kamisedo,chatan-cho,okinawa Tel/098-983-7332)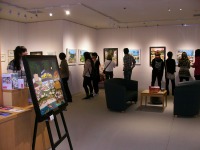 ★KYOKO NAKAMOTO        
SOLO EXHIBITION 2010
Kyoko's annual show count 10th anniversary and got a great success!!Thanks so much for the customers and all who have been supporting the exhibitions!
<Photos>
Dates:December 7th-13th,2010
Place:Ryubo Bijutsu Salon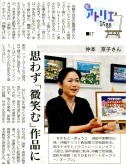 ■Kyoko interviewed on OKINAWA TIMES(news paper).,2009/12/4
★Kyoko participate in "Wish You Were Here 9"
yearly benefit show. Kyoko join with two of small etching works.Please stop by and enjoy the show!
Dates:June23-July18,2010
Place:A.I.R.Gallery (111 Front St. Brooklyn,NY TEL/212-255-6651)
www.airgallery.org

★Kyoko's art appeared on 2010calender of Japanese Bank
★KYOKO NAKAMOTO EXHIBITION 2009 Over!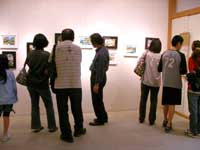 Thanks so much for a lot of customers came by and enjoyed my new works! I truly appreciate for your warm concern and support.
Newly released Copper-prints and Kakejiku-works were well received by the collectors as well as Paradise-series acrylic works.
Thank you very much again.
<Photos>
Dates:Dec.8th-14th,2009
Place:Ryubo Bijutsu Salon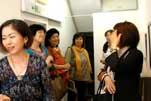 ★KYOKO NAKAMOTO EXHIBITION
in TOKYO Over!
Kyoko's solr show in Ginza Gallery was very greatfuly succeed and exiting days for me with a lot of customers and art-lovers!Thank you for enjoying the artworks!
Dates:July 11th-16th,2009
Place:Gallery Two Plus
Shirai Bldg.,1-14-15,Ginza,Chuo-ku,Tokyo
(tel:03-3538-3322)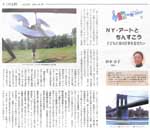 ★Kyoko's essey appeared on LEQUIO Paper(May.7th issue)

★KYOKO NAKAMOTO EXHIBITION
           〜A Simple Life〜
★Sapporo exhitibion's over!
Thank you so much for your visiting to the gallery
!DATES:April29〜May5,2009
PLACE:MARUI IMAI ARTGALLERY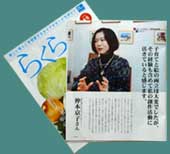 ★Kyoko interviewed on RAKURA magazine Spring issue.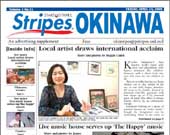 ★Kyoko appeared on "STARS & STRIPES"April 24.issue.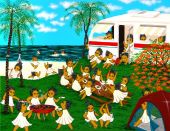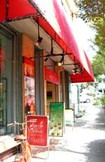 ★KYOKO NAKAMOTO EXHIBITION
This is the small show at ART LIFE GALLERY in Shuri.

DATES:March 7th-April 3rd,2009
PLACE:ART LIFE GALLERY (Tel:098-884-3002)
11:00am-8:00pm
| | |
| --- | --- |
| | |
| Appeared on TV | |
■Thank you for your coming!■
solo show at RYUBO SALON over
Kyoko's year end event was over!
Thank you very much for all of you kindly visited my show
Dates:Dec.9-Dec.15
Place:RYUBO salon .
<Photos>

★Kyoko will participate with One work in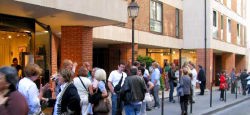 FRANCE-JAPAN traveling Art Exhibition for celeblate 150th anniversary of the friendly relations.


Dates:Nov.26-30,2008
Place:Okinawa prefectural museum gallery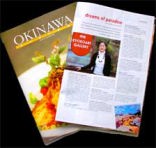 Kyoko Nakamoto interviewed on "OKINAWA LIVING"magazine November2008 issue.
★Ceres Gallery Group Show"Visual Perspectives"
Thank you very much for stop by the gallery! See you next year again!
Dates:July15-August9,2008
Place:Ceres Gallery(547west27th.st,suite201,2nd floor,NEW YORK,NY)
http://www.ceresgallery.org
★A.I.R Gallery Post Card Show "Wish you were here7"2008


Thank you very much for stop by the gallery!
See you next year!
Dates:June24-July19,2008
Place:A.I.R. Gallery(511west25th Street #301 New York,NY)
http://www.airgallery.org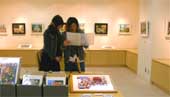 ★Thank you very much for all of you kindly visited my show at Sapporo!
Kyoko's first exhibition at Hokkaido.

Dates:April 29 to May 6,2008
Place:ArtGallery at Marui Imai
(tel:011-205-1151)


★Kyoko interviewed on "Real estate" magazine Spring issue.
<2008/Spring>


★Kyoko's interview on April issue of "cuna"magazine
<2008/4>


★Kyoko's essey appears on Town paper"Kumoji"winter issue
<2008/winter >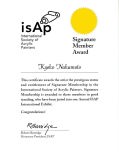 ★Being Signature member of
isAp(International Sociey of Acrylik Painters)



Kyoko received the honor of being Signature member of isAp 2006!

isAp website:http://www.isap-online.com/
↓NEXT