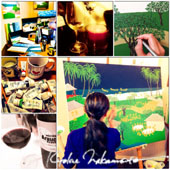 Kyoko Nakamoto grew up in the small Japanese Island of Okinawa, a land that seems to maintain a climate of everlasting summer, rich with blue seas and skies and an infinite array of flowers. As a child, Nakamoto was found to be discovering a talent for art by scribbling on the walls of her childhood home, needing an outlet to fulfill her ambitions to be an illustrator. From these scribblings as a child, she went on a quest which has
presently taken her to her own illustration studio where she desighs book jackets, posters, maps, etc.
Her childhood ambitions have also come to reality and in her acrylic paintings with their bright contrasting colors and their precise animator's lines. Each of these paintings reveals bright and concentrated scenes through which she attempts to elicit a joyous
reaction. Nakamoto describes this emotional process as exerting herself to "find paradise in my mind." By plumbing the depths of her mind, she wants to bring a gift in the
form of happiness to the world. This goal has been met with much success.
Besides having won multiple OKITEN Awards, her works, that are often described as
Asian Naive Art.
BIOGRAPHY

KYOKOART Gallery (okinawa,japan)
2001~
Working as a professional(full time) artist and organizing own art gallery, exhibit nationaly and internationaly.

Nakamoto Illustration Office
1994~
Working as the professional illustrator and the Artist. Giving a challenge to some of competition,awards,and getting prizes in Japan. Opened solo and group exhibition in Okinawa. Jobs-Bookcover design,Poster,Package design,Maps,various kind of illustration on Magazines,etc.
Recently, acting as "Naive Art"painter and having a show in Japan and New Yor'‹ every year. After every show in NY, put tne serial essay about NY ART SCENE on the news paper in Okinawa. Being judge of the art competitions, appearance on TV, and having a talk show at the big hotel, etc.

Tokio Marine And Fire Insurance Company Okinawa B.O.
1984~1993
Worked at the claims for damage section for about 10 years. Experiences during these 10 years were very useful for many kind of negotiations with the clients and the publicity agents on the present works.

Kyoko Nakamoto presents an unusual and refreshing style of acrylic painting, Comical yet
Traditional style of Sumi-Drawing (Black-Ink on Japanese paper), Etching prints and more.
For more information, Visit www.kyokoart.com or Kyoko Nakamoto Gallery on FB.
¡ PRIZES ¡
2007 May. isAp (international society of acrylic painters) Annual Show (CA)
2003 Mar. A.l.R.Gallery 5th Biennial Exhibition (NY)
2001 Dec. 27th Modern Naive Art of Japan (Tokyo)
2000 Dec. 26th Modern Naive Art Of Japan (Tokyo)
2000 Mar. Soho International Art Competition 2000 (NY)
1999 Jan. OKITEN Award (Okinawa) 1998 Jan. OKITEN Award (Okinawa)
¡ EXHIBTTIONS ¡
2014 Mar. G.N.A (Japan Gallery Network Association) Exhibition (Tokyo)
2014 Feb. Kyoko Nakamoto Studio Show gLove Manayunkh (Okinawa)
2013 Nov. Ceres Gallery Group Show gEXPOSUREh (NYC)
2012 Dec. RYUBO SALON SOLO EXHIBlTlON (Okinawa)
2011 Dec. RYUBO SALON SOLO EXHIBlTlON (Okinawa)
2010 Dec. RYUBO SALON SOLO EXHIBlTlON (Okinawa)
2009 Dec. RYUBO SALON SOLO EXHIBlTlON (Okinawa)
2009 Jly. Gallery Two Plus SOLO EXHlBlTlON (Tokyo)
2009 Apl. Marui lmai Sapporo Gallery SOLO EXHlBTlON (Sapporo)
2008 Dec. RYUBO SALON SOLO EXHIBlTlON (Okinawa)
2008 Nov. France/Japan Art Festival (Paris, Tokyo)
2008 Jly. Ceres Gallery Group Show (NYC)
2008 Jun. A.I.R. Gallery Group Show (NYC)
2008 Apl. Maui Imai Sapporo Gallery SOLO EXHIBITION (Sapporo)
2007 Dec. RYUBO SALON SOLO EXHIBlTlON (Okinawa)
2007 Jly. Ceres Gallery Group Show (NYC)
2007May.San Luis Obispo Art Center-isAp Annual Exhibition (CA)
2006Dec. RYUBO SALON SOLO EXHIBlTlON (Okinawa)
2006Jul. Ceres Gallery Group Show (NYC)
2006Apl. G.N.A (Japan Gallery Network Association) 5th Anniversary Exhibition (Tokyo)
2006Feb.Okinawa Zanpa Royal Hotel Gallery Solo Show (Okinawa)
2005Dec. RYUBO SALON SOLO EXHIBlTlON (Okinawa)
2005Sep. Gallery BIKEI Solo Exhibition (Oita)
2005Jun. A.l.R.Gallery Group Show (NYC)
2005Jan. Motoazabu Gallery Group Show (Tokyo, Toyama, Naha)
2005Jan. Caelum Gallery Group Show (NYC)
2005Dec. RYUBO SALON SOLO EXHIBlTlON (Okinawa)
2004Dec. AREUM Exhibition in Kyoto City Museum (Kyoto)
2004Jun. A.l.R.Gallery Group Show (NYC)
2003Dec. RYUBO SALON SOLO EXHIBlTlON (Okinawa)
2003Sept.Gallery BIKEI Solo Exhibition (Oita)
2003.July. A.l.R.Gallery Group Show (NYC)
2003May.Rizan Sea Park Hotel Gallery Solo Show (Okinawa)
2003Mar. A.l.R.Gallery 5th Biennial Exhibition-Selected Show (NYC)
2003Jan. Caelum Gallery Group Show (NYC)
2002Dec. RYUBO SALON SOLO EXHIBlTlON (Okinawa)
2002Nov.Toubu Gallery Art Show (Tokyo)
2002Aug.TENMAYA Gallery Solo Exhibition (Hiroshima)
2002Apr. Gallery BIKEI Solo Exhibition (Oita)
2002Mar. AREUM Exhibition in Kyoto City Museum (Kyoto)
2002Mar. Toubu Gallery "Spring Art Show" (Tokyo)
2001Dec. RYUBO SALON SOLO EXHIBlTlON (Okinawa)
2001Jly. Caelum Gallery Group Show (NYC)
2001 Apr. Naive Art of Japan Annual Exhibition (Tokyo)
2000 Dec.GaIlery Atos Solo Exhibition (Okinawa)
1999Nov. Gallery Atos Solo Exhibition (Okinawa)